Creating an app for your conference or event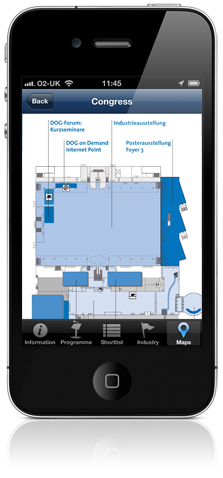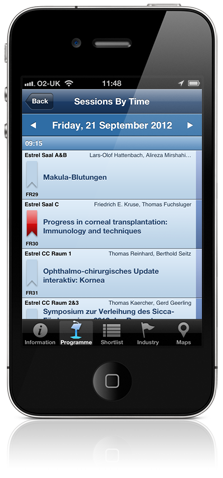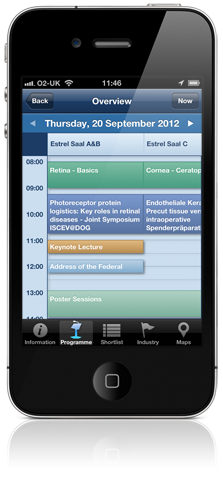 Organising a conference, scientific congress, exhibition can be a daunting task – with an immovable deadline and a multitude of suppliers, exhibitors, speakers, venues and delegates to manage, there is often little time to spare for creating a really useful app for your event attendees.
We can help create the perfect app to accompany your event, using the existing assets and data you have, and deliver it to your delegates and attendees in time for the opening day.
An event app provides numerous benefits and opportunities over a traditional printed programme:
Allow visitors to get the most from their time at your event, planning their schedule ahead of time
Visitors have access to all the information they need on the device already in their pocket, no need to carry around a hefty printed volume
Information can be searched, bookmarked and timed reminders set
Change of rooms/speakers/exhibitors can be updated instantly even after the event has started
Exhibitors can provide extra information about their products and services
Visitors can initiate contact with exhibitors and book appointments in advance
Exhibition floor is easier to navigate with interactive, searchable maps
Sponsorship opportunities provide potential extra revenue
Additional material can be included (e.g. video content, PDFs)
Timed reminders for keynote presentations can be pre-set by the event organiser
The latest version of our conference & event platform provides all of the above and more, and delivers this in a professional, easy-to-use way – allowing fast access to all the event information without needing to log in, navigate through a website or connecting to the internet.
The app supports the following platforms:
iPhone/iPod Touch
iPad
Android phones and tablets
The app can be customised to suit your event, including the structure of your programme (e.g. multiple streams, sessions/lectures), branding, venues etc.
Our event platform has been tried and tested over the past 3 years and evolved to support a number of different event formats; this means you can be sure your users will receive a professional and reliable app that will enhance their experience during your event.
For international events, support for multiple languages is provided.
If you would like to find out more, or have an event you would like to create an app for, please contact us.